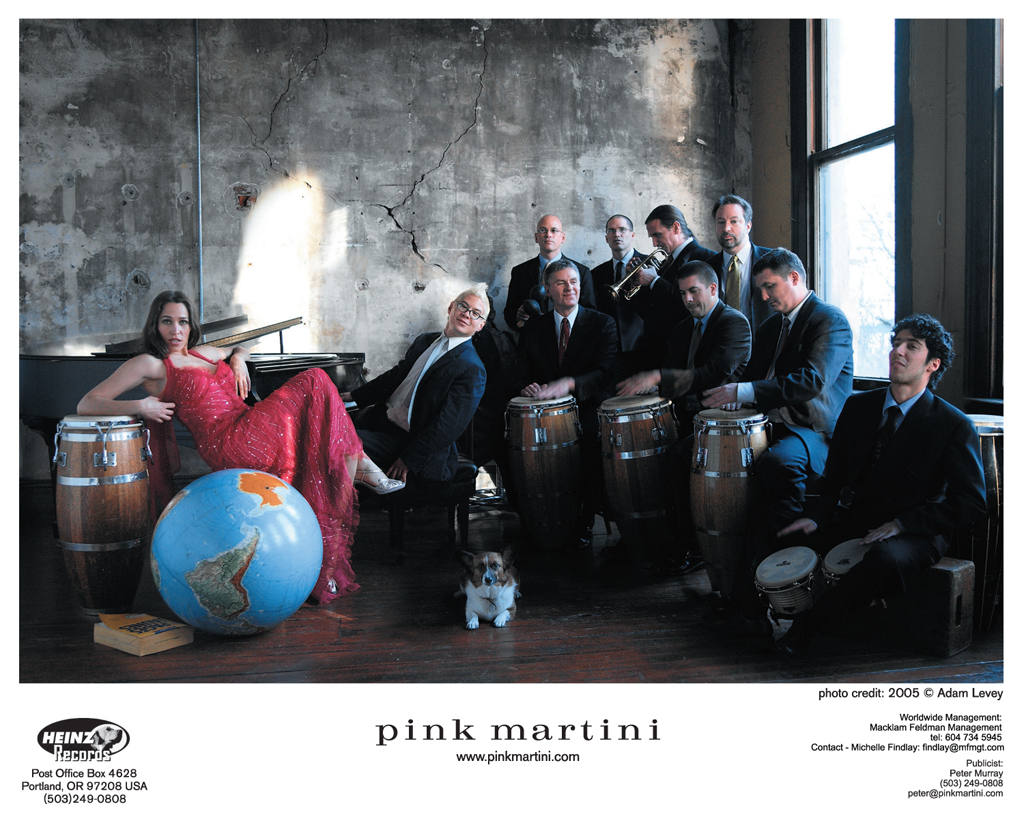 I'm a fan of the band Pink Martini. At first glance, they appear to be an orchestra from a bygone era replete with classic instruments, suits and evening gowns. But when you look a closer, you'll notice personal style such as: bleached blonde hair, sparkly sequins and tattoos. The band, like their music is an smorgasbord of sights and sounds that are uniquely their own. Uniqueness and personalized interpretation are the same qualities I want when I dine out. I had been told that Olio e Limone in Santa Barbara was such a place. So with tickets to Pink Martini at the Arlington theater on State Street in hand, my date for the evening (A.K.A. mom) and I headed over for some pre-show dinner.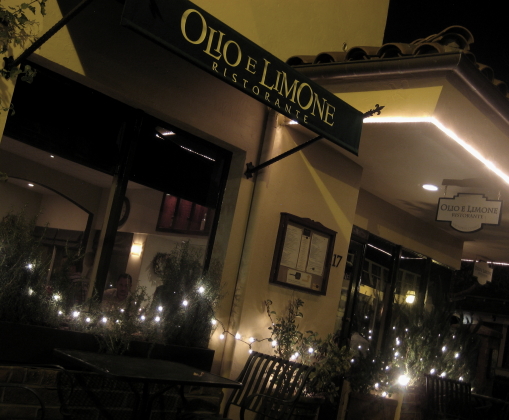 The quaint space on West Victoria was surprisingly packed for 7PM on a Thursday. Either a reflection of the newlywed or nearly dead reputation of Santa Barbara or the crowd was heading to the 8PM show across the street like us.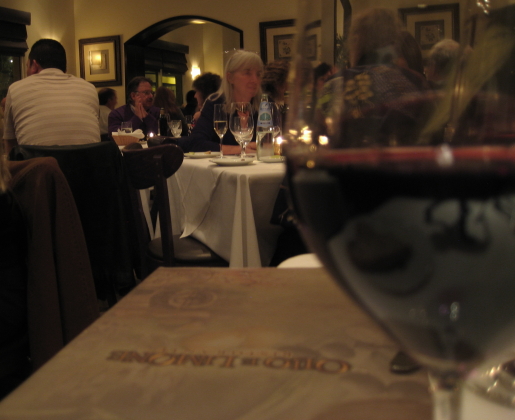 Olie e Limone is a Goldilocks sized place; quaint and intimate, nice lighting and a clean adobe hacienda-look. "Simple elegance" as mom described it. Friendly and welcoming with mirrors and windows making the room appear larger with a pleasing Feng Shui effect.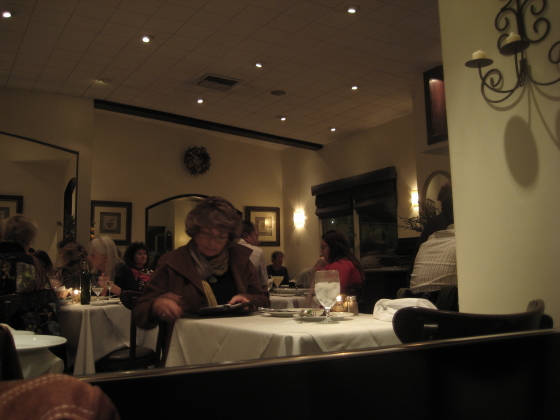 A bottle of Alberello Organic Extra Virgin Olive Oil is brought to every table with bread. It has a clean, mellow, light taste. An every man's olive oil.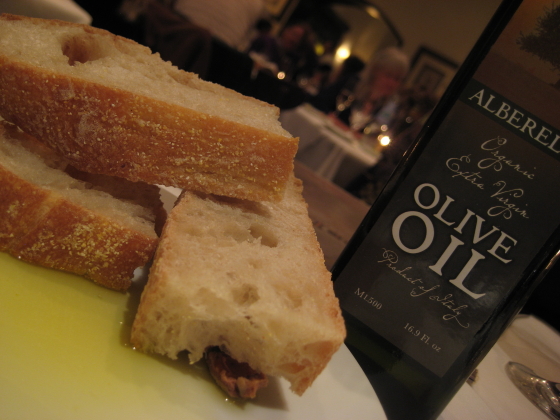 Spongy Italian bread accompanies the oil. My favorite foil for olive oil. Soft and spongy inside for Gulf Coast level oil absorption with a harder crust for a crunchy contrast.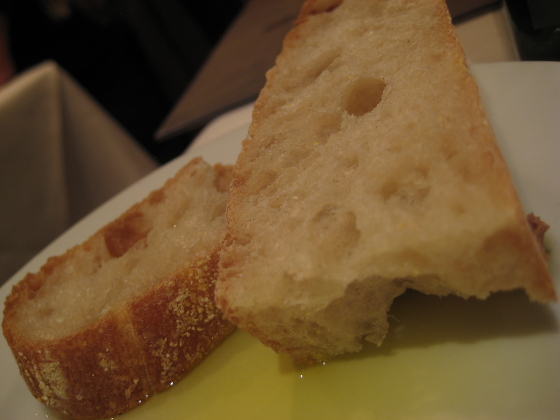 Our waiter like our olive oil was imported from Italy. It was fun to listen to his Italian accent as he corrected my mis-pronunciations of every dish I ordered. We started with an, unseasonal for October, Insalata Primaverile (spring salad). It sounded too good to pass up: Mixed baby lettuces, grilled eggplant, roasted bell peppers, goat cheese and Olio e Limone dressing for $12.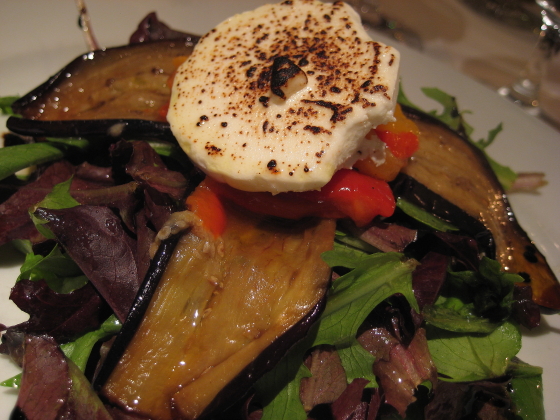 Great presentation and a nice flavor but the ingredients lacked a feral depth of freshness you get with seasonal and local produce. Also, if the zucchini had been warm, it would have provided a nice temperature contrast that would have been more interesting in the mouth. It was good just not amazing. Next we ordered Fiorellini di Mellanzane.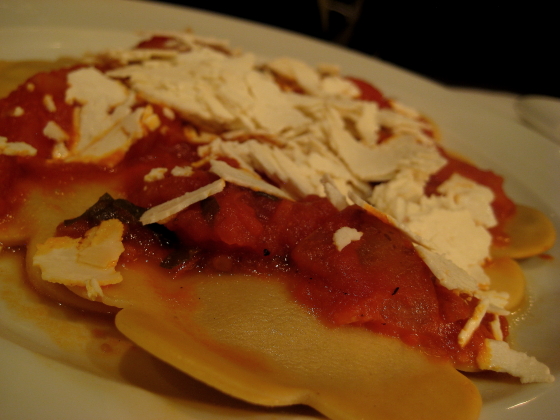 Housemade ravioli filled with roasted eggplant and goat cheese with fresh tomato sauce, basil and ricotta salata for $21. This dish was amazing and our favorite. The eggplant provided a heartiness, the raviolis tasted fresh, the goat cheese was simultaneously creamy and rustic with a tart after taste and the ricotta salata provided a nice saltiness. Soul satisfying Italian comfort food. Along with the ravioli, we ordered Spaghetti allo Scoglio.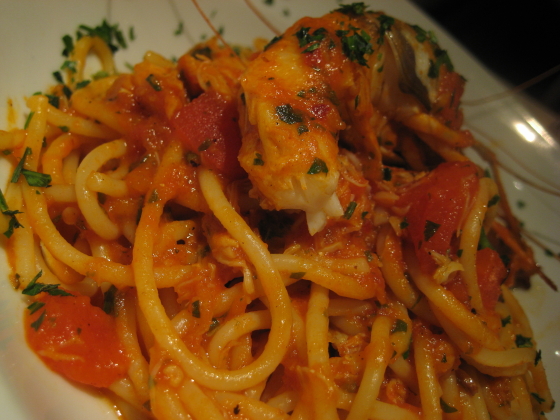 Spaghetti with fresh dungeness crab meat in a spicy tomato sauce topped with a big prawn for $26. It was deliciously spicy and briney but a little fishy and the prawn lacked that little lobster flavor you find in the really good ones. Still, I dispatched it with alacrity.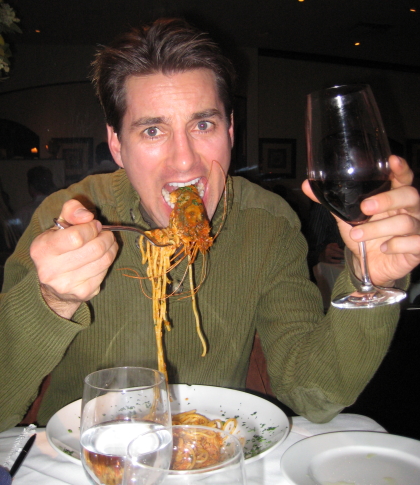 Olio e Limone offers a nice selection of Italian Reds by the glass for $11-13. Mom went "The Godfather" with a Sicilian Nero d'Avola. I stayed local with a Z Cuvée from Zaca Mesa. Both paired well with the entrees. Olio e Limone doesn't serve up Pink Martini level flavor, but it's ambiance, location, food and wine does well enough to satisfy the newlywed, the nearly dead and those in between.
Olio e Limone
17 West Victoria Street, Santa Barbara, CA 93101
Phone: 805-899-2699